Rapid Set-up of China Manufacturing Operations
SCI's 9-Step WFOE Process can help you get your China WFOE up and operating inexpensively and ahead of plan. As the VP of Alcatel's RFS division said:
"The most important decision I made before venturing off to Asia was partnering with SCI. Through their professional diligence I was successfully operating seven months ahead of schedule while spending just 72% of the capital budget"
Ten years ago most companies wishing to establish production capability in China entered into joint ventures with local Chinese companies. But today most foreign companies are establishing "wholly-foreign-owned enterprises," "WFOEs," or acquiring existing companies more or less 100%.
There are normally three phases of documentation required to incorporate a WFOE in China, but this is usually routine and just a small part of the total SCI Process. Location, selection of a specific suitable site, recruitment, sourcing, machinery import and installation, and so on, must all be coordinated for the most cost-effective process.
Experience
We've helped many companies with many different aspects of establishing China manufacturing operations. For example, we provided comprehensive assistance from scratch to full operations to Alcatel's RFS division and to DelStar in establishing their WFOEs in China.
And we've helped companies with tasks as diverse as market and competitive intelligence to due diligence, to feasibility studies, to Articles of Association to full joint ventures. In several cases, the market intelligence we provided actually stopped companies from investing in joint ventures that would have failed, saving them substantial money and precious time. See our Project Abstracts for some typical examples.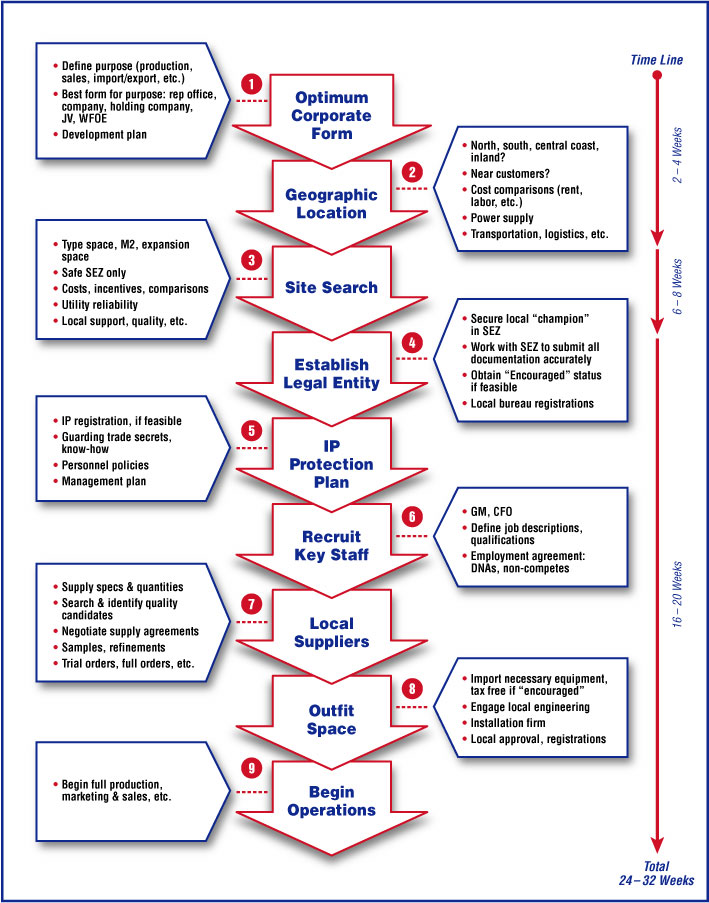 China's 3-Phase WFOE Registration Process
Most SEZs have "one-stop-shop" support centers which can provide advice and guidance and many, if not all, of the forms required to set up a company in China. These centers can be very helpful with this process. Although the process and documentation can vary a little region by region, it is basically as described below. Moreover, it can all be all be done in just a few weeks if no major problems arise.
Phase 1. Preliminary Project Application and Business Name Registration
Short project application
Application for the Establishment of a Foreign Invested Enterprise (FIE)
Environment Impact Self Evaluation Form
Site Selection form for the project (Note: this is why it is better to settle on a site before registering the company. It will just avoid possible delays related to this.)
Business Name pre-approval application
Letter of authorization for the Application for Business name
US bank reference letter (creditworthiness)
US certificate of incorporation ("parent company")
The forms for Step 1 are all pretty simple and routine. All forms (for all Steps) must be submitted in both Chinese and English, and both have equal weight. At the end of Phase 1, you will receive an approval letter and a business name approval notice and may then proceed to Phase 2.
Phase 2: Official Application for Government Approval
Feasibility Study
Articles of Association (Note: this is a key document as it lays out equity terms, registered capital and total capital)
List of equipment & raw materials to be imported
List of names of WFOE Board members & official certificates of appointment
Names of WFOE GM, Deputy GM & certificates of appointment
After Phase 2, the Certificate of Approval is issued.
Phase 3. Application for Business License
Application for establishment & registration of FIE
Form for registration of "Legal Representative" and "evaluation" form (declaring no illegal activities, etc.)
Copy of the I.D. or Passport of board members, GM & deputy GM; resume & photos of legal representative.
After Phase 3, the Business License will be issued and the company has been officially established. You must then open a local bank account and fulfill your registered capital obligations, and officially register with various government departments, such as:
Bureau of taxation (state and local)
Customs bureau
Public Security Bureau
State Foreign Exchange Administration
Financial Affairs Bureau